SUMMER ACTING PROGRAM - SUMMER THEATER INTENSIVE & ACTING SCHOOL NYC

SUMMER THEATER INTENSIVE




Acting classes & workshops-Actor Training at itâs Best!




Acting Classes With Master Teachers & Classes

for Actors and Directors

Summer Faculty

Andrew Wade RSC
"Shakespeare to Oscar Wilde"
Coach SHAKESPEARE IN LOVE

Quote Summer Student:

Thank you so much for the beautiful opportunity and all the wonderful memories! I recently finished "Anna in the Tropics" at FIU and I could never have tackled the role of Ofelia (a 50 year old Cuban Woman) without the skills I developed at your school! I hope we can work together again very soon ! Also, many of my classmates are very interested in your Summer Intensive after seeing the transformation the six of us had last summer.

- Emily-Jayne Frail , Florida



Click Here

for more info.




New York City Housing

Available
Introducing.....


"MOVEMENT MARATHONS"
TM
"Where Williamson, Michael Chekhov and Viewpoints Meet!"(C)
"Act from your feeling Imagination" John Patrick Shanley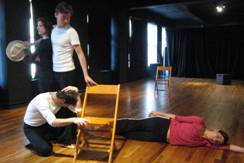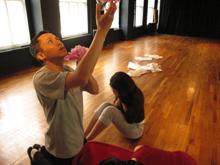 To register for a free class and for Fall/Spring/Summer
classes and workshops email us.
Designed to
: Expand and Develop Kinesthetic Awareness, Experiential Sensation, The body in space and time, Creative Imagination, Emotional freedom, Physical and Vocal ease, Ability to send, receive , and transform, freedom from Tension, Expansive and Experiential Contact and Ensemble play.
Movement Marathon ©
WILLIAMSON Physical Technique
VIEWPOINTS and Michael CHEKHOV Technique
NEW

RASA

BOXES

TM
Actors Become Athletes of the Emotions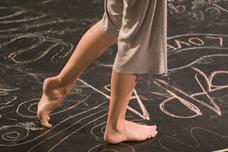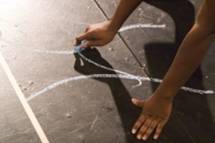 Weekend Intensives TBA

Cost $350
Space is Limited, so register now!!!!

Note: (This workshop is not closed for Registration!.
Please send us an email if you are interested in our
up coming workshops this fall!!)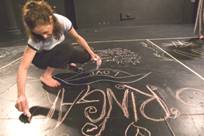 Weekend Intensive!!
Summer Intensive RASABOX Workshop
Master
Paula Murray Cole
e-mail to Register :
ams@actorsmovementnstudio.com
Michael Chekhov for the Actor
Classes is Chekhov Technique of Acting

"The essence of our profession ... is to give. What is it that we in the theater give? ... We give our body, voice, feelings, will, imagination – we give a form of pulsating art to life itself; we give it to our characters and we give it to our audiences. Nothing, absolutely nothing remains for us save the pleasure of having given pleasure. And yet it is only by this miraculous process that our love grows and our talent is fulfilled and replenished."
–– Michael Chekhov
Chekhov\n on Chekhov ©
Uncle Anton & his Nephew Michael

The text: The Three sisters
Application: Michael Chekhov Technique

This class will explore Michael Chekhov's "psycho-physical" approach to acting, through the basic principles and exercises outlined in Chekhov's book "To the Actor," including psycho/physical exercises, character work and ensemble improvisation. Each class begins with a warm-up specifically designed to develop the organic connection between the actor's inner life, creative imagination and expressive body.

Through the rigorous practice of Chekhov's core exercises students will explore; Radiating and Receiving, Archetypes, Imaginary Centers, Imaginary body, Character Atmospheres, Overall scenic Atmospheres, Qualities of Movement, Imaginary Palace, and Psychological Gesture, along with on camera adjustments and more & Chekhov's technique consists of a wide variety effective acting tools, which can inspire endless possibilities for enlarging the actor's creativity and artistic expression - the actor can then bring this sensibility to the creation of a character, exploration of the text, and inspired performance.
"The Art Of Transformation"
Psycho-Physical Exploration of the Character, Character Centers, Qualities of Movement, Atmospheres, Psychological Gesture, & Imaginary Body. Awaken the Expressive BODY Expand your Creative Imagination!
Taught by
Master Teacher, Janice Orlandi
Artistic Director Actors Movement Studio

| | | | | |
| --- | --- | --- | --- | --- |
| | | | | |
| | | | | |
| | | | | |
Summer Theater Intensive

"My experience at the Summer Theater Intensive was incredible . I learned so many things not only about the dramatic craft but about myself, too. I experienced how to "let go" and be. I am a big fan of Williamson technique and Michael Chekhov technique. Catherine Fitzmaurice was also very helpful, I learned all these amazing exercises which help me open my voice even more."
Student 2005 -

Ina Imprescia

opera singer

SUMMER THEATER INTENSIVE Students


"The Actors Movement Studio Summer Theater Intensive was a unique experience because not only did it allow me to tap into emotional resources I had not previously explored, but it also provided a one-of-a-kind bonding experience that has yet to be repeated. I am fascinated by Michael Chekov technique and I still use viewpoints in my current projects. It was a pleasure to play Oscar Wilde in the Salon because not only did it give me a chance to really perform, but it also gave me the opportunity to learn a lot about what went on in the personal life of a genius whose work is a classic and a must for everyone who's interested in theater and life in general. My experience that summer is one I could not speaking of for several months after it was over and it is one that I still think of when people ask me for recommendations for where to spend their summer."

- Amir Levi




Summer Theater & Acting Intensive

Michael Chekhov Technique
Nine Viewpoints & Composition
Mask Character and Neutral
Fitzmaurice Voice Lab
Alexander Technique


Mime and Pantomime
Let-go Breathe Process Explore Risk Experience
PERIOD STYLE Character


Baroque -Edwardian - Elizabethan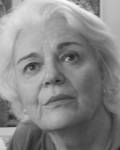 Summer TBA
Catherine Fitzmaurice
Voice Lab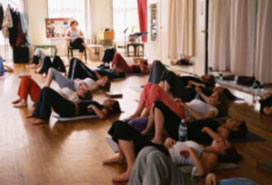 Visiting, Guest Artist Catherine Fitzmaurice
Actors Movement Studio featured in Show Business Weekly in an article by Linda Armstrong on Classical Theatre Training. Featured are pictures of our students from our Baroque Salon this past semester.



Read Article in





"The most outstanding value of a Period Style class is that it produces actors that move and live within the style of a period with total truthfulness, vocal freedom, physical grace and ease. Actors learn to create an expansive character free fro the limits of their everyday physical and vocal habits. Immersed in the circumstances of the place and time of an era, the actors as an ensemble create an imaginary world. This Fall they will become Edwardians living in the opulent era of the Belle Epoch" said Janice Orlandi, co-artistic director of Actors Movement Studio.
Anna Sokolow

"Anna Sokolow is the mentor who to this day remains the mother of my artistic soul. From my work with Dramatic Movement for actors with Anna, I discovered the aesthetics of movement, and the expressive beauty of another Art. For Anna, movement must grow from the actor's inner experience. She taught actors how to awaken the inner experience by listening to their entire bodies, and to other artists: musicians, composers and poets, (which for me expanded to include, painters, singers and dancers)."
--Loyd Williamson

I

n the 1930s, Sokolow began giving classes to the Group Theatre, and she continued to work with actors as well as dancers until the very last years of her life. In the 1940s and '50s, she worked with Elia Kazan at the Actors Studio, and in 1958, she began decades of teaching actors and dancers at the Juilliard Dance Division. "My first aim is to free the actor from his self-consciousness," she once commented. "I make him forget about the clichŽs about having to smoke, to touch or handle something.... It may seem to the actor that he is learning how to move and how to use his body, but what he really learns is to be simple, honest and human."



To learn more about Anna Sokolow, Click Here



Congratulations Alumni

Micah Alberti




on his new TV series!



"Nothing influenced my work as much as Actors Movement Studio classes. This work had a profound effect on my ability to respond with freedom as an actor..." -Micah Alberti

Click here

for more info.



Day time Emmy Award Winner
Tom Pelphrey (Jonathan, Guiding Light)
Outstanding Younger Actor In A Drama Series

GUIDING LIGHT * CBS
TOM PELPHREY, AS JONATHAN RANDALL
Studied Williamson Technique for Actors at Mason Gross School of the Arts. Rutgers University
Edwardian Period Style

The style project accompanies either Level IIIA or Level IV Class. The actor researches and develops a character through historical and cultural etiquette, manners, protocol, dances, clothes, cultural, and social relationships of the period. The period characters are created using the principles of the Technique such as: sensual contact, open range of sound, and physical alignment.

For more info please click here.






Loyd Williamson





Loyd Williamson Jr.
Founder of Actors Movement Studio.

– Call for Date of Next Workshop –

He is the creator and author of the Williamson Physical Technique, and of The Williamson Advanced Period Style Project, "The Salon" ?br />
He was the principal Movement Professor at The School of the Arts, Rutgers University from 1979 to 2001; served on the faculty of HB Studio for eleven years; visiting professor at the Tisch School of the Arts for three years; for The Juilliard School; and the Princeton Shakespeare Festival. He has taught classes and coached actors on Broadway, and in Feature Film, Television, Regional theaters, and many conservatories.


His acting training was with Sandford Meisner in his two year professional classes, with Harold Clurman, and with Michael Howard. His mentor in actorâs movement training was Anna Sokolow, with whom he trained for 12 Years, and performed in her Players Project. He received and MFA degree from the School of Theater, University of Georgia, specializing in scene and lighting design with major in Directing.

For a brief biography click here

Featured in the Book
"Movement for Actors"

Featured in the Book
"Acting Teachers
of America"